Visit Mas Miró with a digital audio guide which also includes the "Miró's emotional landscape". Itinerary and digital game for kids.
Visit Mas Miró
Buy your ticket and discover the origins of Joan Miró's work and his artistic universe
Mas Miró i les escoles
Acess to the page with all the information about the activities for schools.
Visit with specialized guide through the different spaces of Mas Miró. Available in Catalan and Spanish
Enjoy Mas Miró with your friends and family.
"I need a starting point, even if it is only a speck of dust or a shining ray of light."
From statements made by Joan Miró to Yvon Taillandier, 1959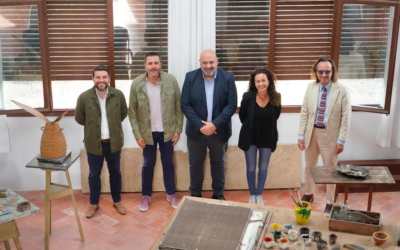 Mas Miró receives the mayor of Palma and reinforces the Triangle Miró with Mallorca and Barcelona
On 19 June the Generalitat de Catalunya launched the podcast 'Si les parets parlessin' (If Walls...
May 18, 2023 Mas Miró joins the celebration day, by opening the doors free to his visitors